If you like this recipe come back on www.happystove.com and rate it!
Stir Fry Broccoli Pork - Recipe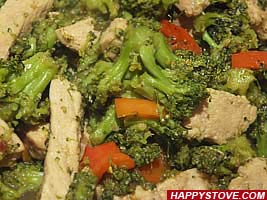 Stir Fry Broccoli Pork recipe is a delicious main dish with an Asian touch. The delicate flavor of the ginger well matches the intense taste of broccoli and red bell peppers. All dressed with the strong hints of the Soyaki sauce.
Stats:
Preparation time:

30 minutes
Cooking Directions:
Cut the pork tender loin in uniform strips.
Wash and cut the broccoli and the red bell pepper into large pieces. Boil for 5 minutes until almost tender. Drain and let cool.
Heat a large non stick pan. Add the oil and the garlic.
Stir fry the meet strips until lightly brown. Add the ginger powder.
Add the broccoli and the bell pepper. Lower the temperature and cover.
Let cook for about 10 minutes then add the Soyaki sauce and heat for additional 3 minutes stirring occasionally.
Serve hot with a generous side of steamed rice.
Tips:
If you cannot find Soyaki sauce, a good substitute is called Very Very Teriyaki. You can even try to make your own mixing 10 oz of Soy sauce, 2 oz of teriyaki sauce a little bit of grated ginger root, 1 spoon of sesame seeds, 2 spoons of sesame oil, garlic and onion powder.
Stir Fry Broccoli Pork is tagged as: