If you like this recipe come back on www.happystove.com and rate it!
Shrimp and Cocktail sauce Pizza - Recipe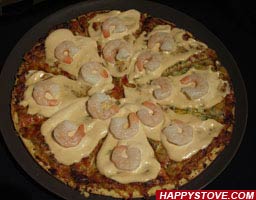 Shrimp and Cocktail sauce Pizza is an original idea for topping your pizza. You can either use fresh or frozen ingredients to try this delicious recipe.
Stats:
Preparation time:

40 minutes
Ingredients:
To browse other recipes using that ingredient click on the
Cooking Directions:
Prepare half of the cocktail sauce as described in Cocktail sauce - Salsa rosa ↪. Follow the link for the recipe.
Prepare a large bowl of ice water. In a pot bring to boil water, kosher salt and lemon juice. Rinse the shrimps and boil them for 2 minutes from when the water returns to boil. The shrimp should be bright pink.
Paying attention to do not damage the shrimps, I suggest to use tongs, remove the shrimps from the pot and put them in the iced water and let them cool down for 2 minutes.
Peel completely the shrimps.
Prepare the pizza margherita (only tomatoes and cheese) as described in Basic Pizza Margherita ↪.
Before serving spread a layer of cocktail sauce (salsa rosa) on the pizza and place the shrimps on it.
Tips:
You can slice the pizza before topping with the sauce and the shrimps to facilitate the serving.
For a faster recipe you can use already cooked shrimps, even frozen, instead of fresh ones.
This recipe is also a perfect idea to top you cheese frozen pizza.
Shrimp and Cocktail sauce Pizza is tagged as: