If you like this recipe come back on www.happystove.com and rate it!
Shrimp Cocktail - Recipe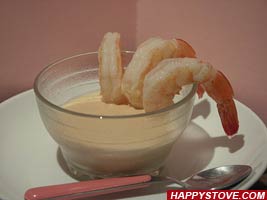 This Shrimp Cocktail recipe is perfect as starter for a romantic dinner or to bring a stylish note to your events.
Stats:
Preparation time:

20 minutes
Ingredients:
To browse other recipes using that ingredient click on the
Cooking Directions:
Prepare the salsa rosa cocktail sauce as described in Cocktail sauce - Salsa rosa ↪. Follow the link for the recipe.
Prepare a large bowl of ice water.
In a pot bring to boil water, kosher salt and lemon juice. Rinse the shrimps and boil them for 2 minutes from when the water returns to boil. The shrimp should be bright pink.
Paying attention to do not damage the shrimps, I suggest to use tongs, remove the shrimps from the pot and put them in the iced water and let them cool down for 2 minutes.
Peel the shrimp (leaving the tail-on.) Drain and serve with the cocktail sauce.
Tips:
As serving suggestion put some sauce in a martini glass and arrange the shrimps around the border of the glass.
Shrimp Cocktail is tagged as: