If you like this recipe come back on www.happystove.com and rate it!
Ginger, Turmeric and Cumin Soup - Recipe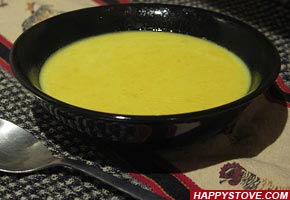 Ginger, Turmeric and Cumin Soup is a tasty and healthy recipe, ideal for a cold winter dinner. The unique and tangy hints of the spices are creating a perfect blend of flavors and colors. Light and easy!
Stats:
Preparation time:

15 minutes
Cooking Directions:
MInce the garlic and then smash it together with the ginger powder to obtain a paste.
In a large non stick pot melt the butter on low heat. Add the previously made garlic and ginger paste, the cumin and stir fry for 1-2 minutes.
Add the turmeric powder, adjust of salt and pepper. Add 3 cups of water and bring to boil. Stir occasionally.
When the soup is boiling add the milk and re-heat to a rolling boil.
Turn off the heat and transfer in serving bowls with the help of a ladle.
Serve hot with steamed rice.
If you like, when stir frying the garlic paste you can add some pieces of chicken and your preferred chopped vegetables.
Ginger, Turmeric and Cumin Soup is tagged as: