If you like this recipe come back on www.happystove.com and rate it!
Pineapple Tiramisu - Recipe
A delicious variation of the traditional homemade tiramisu recipe with fresh sliced pineapple. Ideal for the summer time and perfect for kids!
Stats:
Preparation time:

30 minutes
Ingredients:
To browse other recipes using that ingredient click on the
Cooking Directions: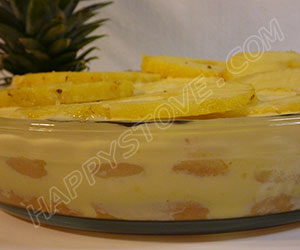 Slice and Juice the Pineapple:
Cut half of the pineapple in slices. Remove the thick skin, the eyes and the though center portion. The slices will be used to top the Tiramisu.
Cut the remaining half of the pineapple in pieces, remove skin, eyes and core and juice to collect the sweet nectar. In alternative, blend the pineapple pieces very well, and filter with a fine mesh strainer or a cheesecloth to collect the juices. Dilute the juices with some water if too thick and dense.
Prepare the Mascarpone and Eggs Cream:
Whisk in a large bowl egg yolks and sugar with an electric mixer, until the sugar is completely dissolved. Add the mascarpone cheese at room temperature. Whisk until smooth and without lumps.
In another bowl, whip with the electric beater, the white eggs.
Carefully, add the whipped white eggs to the cream previously obtained, stirring slowly, with the same pace and in the same direction until well mixed.
Make the Tiramisu:
Quickly dip the Savoiardi in the pineapple juice and lay them down in a large pan (11x8) in a single layer.
Cover with some cream.
Lay a second layer of biscuits and cream, as explained above. If you wish, you can add a third layer.
Cover the top cream layer with the sliced pineapple.
Refrigerate for a few hours and serve chilled.
Tips:
This version of the traditional tiramisu, is a great and refreshening idea for your summer time dessert
In the italian original recipe, tiramisu has not to be cooked. If you have concerns regarding the raw eggs, we suggest you to use instead of fresh products the pasteurized ones, commercially available
Savoiardi ladyfingers are the first-choice biscuits for the preparation of Tiramisu. We find appealing the use of Pavesini too, that gives to the Tiramisu a softer consistency.
If you want to preserve the tiramisu consistency, dip the biscuits in the pineapple juice until slightly moistened
If you want, you can add some minced pineapple to the cream, for enhanced flavor
Instead of fresh pineapples you can use canned ones. Just save the juice to dip the savoiardi ladyfingers and use the pieces to top your cake.
Pineapple Tiramisu is tagged as: