If you like this recipe come back on www.happystove.com and rate it!
Oven Baked Carrots and Milk Pork Loin - Recipe
Oven Baked Carrots and Milk Pork Loin is a delicious recipe for a milk and vegetables flavored meat. A sure success when served with its own thick gravy.
Stats:
Preparation time:

20 minutes
Cooking Directions: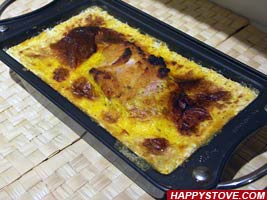 In a food processor, grind carrots, onion, sage and italian parsley with 2 tablespoons of milk. Adjust with salt and pepper to taste.
In a large skillet, melt the butter and cook the meat until golden outside. Remove the pork loin and lay it in a baking pan big enough to contain the meat and the milk.
Keep heating the skillet at low heat. Cook the vegetables mix, previously prepared, for about 5 minutes.
Dress the pork loin with the sauce and add the milk to cover it.
Bake in the oven at 400F for about 1 hour.
Slice and serve warm dressing with the milk and vegetables thick gravy.
Oven Baked Carrots and Milk Pork Loin is tagged as: