If you like this recipe come back on www.happystove.com and rate it!
Penne Pasta with Smoked Salmon - Recipe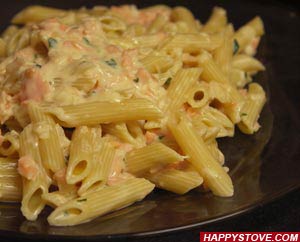 Penne Pasta with Smoked Salmon is a delicious main course that combines the delicate taste of salmon with the strong flavor of whiskey in a perfect pasta recipe.
Stats:
Preparation time:

10 minutes
Cooking Directions:
Heat, in a large pot, enough water to cook the pasta. When boiling, add salt and the penne pasta and cook until al dente.
In the meantime, wilt the finely shredded green onions in the melted butter.
When the green onions are slightly golden, add the Whisky and let it evaporate almost completely.
Add the cream cheese and one or two tablespoons of milk to reach the desired consistency. Adjust with salt and pepper.
Add in the skillet the smoked salmon, cut in small pieces. Cook for about 5 minutes.
When the pasta is ready, drain it and transfer in the skillet with the sauce. Saute for less than one minute, mixing, and serve hot.
Tips:
If you desire, you can add some Italian Parsley to your sauce, for a touch of freshness and color.
Penne Pasta with Smoked Salmon is tagged as: