If you like this recipe come back on www.happystove.com and rate it!
How to cook Seared Tuna Steaks - Recipe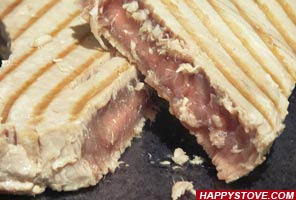 This recipe explains how to cook Seared Tuna Steaks. Delicious and easy to prepare Tuna Steaks are a quick idea for a yummy everyday meal.
Stats:
Preparation time:

10 minutes
Cooking Directions:
Heat at very high heat a griddle. When the griddle is very hot add the tuna steak and cook for 3 minutes on each side (for a 1 1/2 inch steak). Adjust of salt and pepper before flipping.
Serve immediately and pour some olive oil on top.
Tips:
Tuna steaks are best when medium rear cooked (pink inside). If overcooked the flesh tends to lose the natural tenderness. Remove the tuna from the grill before the surface starts to get crusty and burns.
If using frozen steaks, fully thaw them before cooking for best results.
How to cook Seared Tuna Steaks is tagged as: