If you like this recipe come back on www.happystove.com and rate it!
Stir Fry Bok Choy - Recipe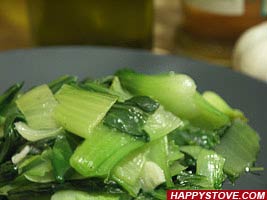 Stir Fry Bok Choy is a versatile oriental recipe that well matches with either meat or seafood meals. With its sweet flavors and its low content in calories, bok choy is the perfect choice for a balanced and healthy meal.
Stats:
Preparation time:

20 minutes
Cooking Directions:
Wash the bok choy and drain. Cut them into 1 inch pieces.
In a large pan or a wok heat the canola oil. When hot, add the ginger powder and the crushed garlic. Stir fry briefly for about 30 seconds.
Add the bok choy pieces and stir-fry on high heat for 1-2 minutes.
Add the soy sauce, half cup of water and adjust of salt. Simmer at very low heat for about 5 minutes or until the liquid is almost all evaporated.
Serve warm as side for your favorite meat or as starter.
Tips:
To enrich your bok choy you can add tofu, chicken, beef or shrimps as a great variation.
Stir Fry Bok Choy is tagged as: