If you like this recipe come back on www.happystove.com and rate it!
Saute of Marinated Vegetables with Red Curry - Recipe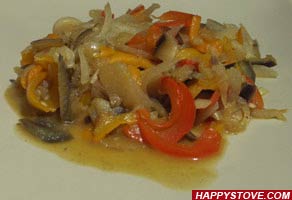 Saute of Marinated Vegetables with Red Curry is a delicious and healthy side dish. Perfect with chicken, turkey or beef!
Stats:
Preparation time:

20 minutes
Cooking Directions:
Wash the vegetables. Cut the fresh bell peppers in long and thin strips. Cut the onions into slices.
Lay the vegetables on a hot griddle or a greased skillet and cook them for about 10 minutes. Mix the vegetables to cook them evenly.
When the vegetable are wilted, remove from the heat and set apart.
Heat a non stick pan add. Add a tablespoon of oil, the finely chopped garlic and stir fry the vegetables.
Add the red curry, adjust of salt and pepper and let cook covered for additional 5 minutes. Serve hot.
Tips:
You can use any vegetable you like such as red endive, zucchini, tomatoes, eggplants and broccoli.
Saute of Marinated Vegetables with Red Curry is tagged as: