If you like this recipe come back on www.happystove.com and rate it!
Smoked Salmon and Zucchini Puff Pastry Roll - Recipe
This recipe for Smoked Salmon and Zucchini Puff Pastry Roll is a tremendous idea for a yummy appetizer. A perfect treat that can be served either hot or cold. Many thanks to Mara L. that shared this great recipe!
Stats:
Preparation time:

30 minutes
Cooking Directions: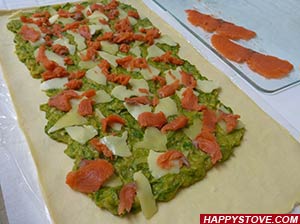 Wash the vegetables. Slice zucchini and onions.
In a large pan, heat the olive oil and saute the onion. Add then the sliced zucchini, cover and let cook for about 20 minutes or until soft and fully cooked. Stir often.
Adjust of salt and pepper as desired. Let cool down.
Open the puff pastry on a clean surface.
Lay on top of the puff pastry the zucchini sauce leaving 1-1/2 inches of room from the border as shown in the picture.
Add the mozzarella cheese slices in strips or pieces.
Add the smoked salmon cut in pieces.
Carefully roll the puff pastry around the zucchini, salmon and mozzarella cheese filling. Be sure to seal the edges of your roll.
Bake on a cookie sheet in the preheated oven at 400F for about 30 minutes or until the puff pastry turns golden.
Let cool a bit and then cut the roll in pieces of about 2/3 inch and serve either still warm or cold.
This Smoked Salmon and Zucchini Puff Pastry Roll is a great idea as snack, finger food appetizer or as a standalone main dish.
Tips:
The Salmon and the Puff pastry are usually pretty salty. Be careful on adding salt to the Zucchini sauce!
Using a foil of parchment paper under the puff pastry sheet will help to move it.
Room temperature or, better, cold ingredients will keep the puff pastry firm when rolling and moving it. Consider preparing the sauce ahead of time and let chill at least to room temperature.
Recipe submitted by Mara L.
Smoked Salmon and Zucchini Puff Pastry Roll is tagged as: