If you like this recipe come back on www.happystove.com and rate it!
Jam and Ricotta Cheese Sweet Ravioli - Recipe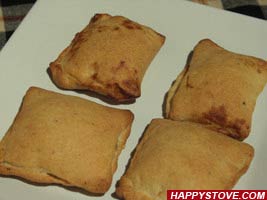 Jam and Ricotta Cheese Sweet Ravioli are delicious pastries with a sweet and fruity heart. Great for with tea or coffee for their delicate and delightful taste.
Stats:
Preparation time:

30 minutes
Ingredients:
To browse other recipes using that ingredient click on the
Cooking Directions:
Prepare the Ricotta Cheese Dough as described in How to make Ricotta Cheese Dough ↪.
Using a rolling pin, roll the dough into a layer of about 1/5-1/6 inches of height
Cut the cookies into rectangular shapes and lay within each of them a little amount of your favorite jam or jelly and close the pastries into little pockets obtaining a ravioli shaped pastry. The dough is very easy to seal simply using your fingers.
Bake for 20 minutes at 400F in a baking pan covered with a cookies sheet.
Remove from the oven, let cool and spread with icing sugar before serving, if desired.
Tips:
Perfect with any flavor of marmalade or jam like peach, figs, strawberries or fresh fruits like apples or pears.
Jam and Ricotta Cheese Sweet Ravioli is tagged as: