If you like this recipe come back on www.happystove.com and rate it!
Oven Baked Spongy Omelette - Recipe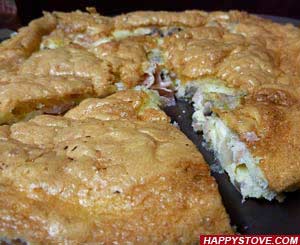 Oven Baked Spongy Omelette is a great and tasty recipe for a yummy and easy meal. Enjoy it hot as main dish or cold and sliced as appetizer.
Stats:
Preparation time:

20 minutes
Cooking Directions:
Ahead of time, take out from the fridge the six eggs.
Whip the whole eggs mixed with a pinch of salt with an electric egg beater for about 20 minutes until stiff peaks. The volume of the preparation should rise about 4 times the starting ingredients.
Wash the vegetables. Chop in 1/3 inch pieces the fresh mushrooms, the onion and the cooked ham.
Slowly add the chopped ingredients to the omelette dough mixing constantly. Always in the same direction slowly from the bottom to the top.
Transfer the dough in a greased and floured baking pan. Sprinkle with abundant freshly ground black pepper.
Bake for 25 minutes at 400F until ready. A well cooked oven baked omelet usually is brown and crispy outside but still moist within.
Tips:
For an heartier variation try also mixing other ingredients such as cheese, frankfurter, sausages, pepperoni, spinach or black olives according to your preferences.
Keep in mind that for best results for your sponge cake, eggs have to be at room temperature.
To make it easier to prepare, instead of beating the whole eggs together you can first beat at stiff peaks the whites and to follow add the yolks and the other ingredients.
Oven Baked Spongy Omelette is tagged as: