If you like this recipe come back on www.happystove.com and rate it!
Spaghetti Gelato - Recipe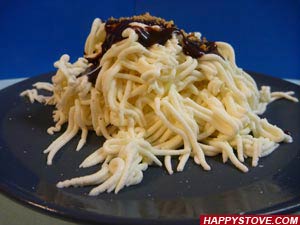 This easy recipe for Spaghetti Gelato (Spaghetti Eis) explains how to obtain a Spaghetti shaped dessert to top with a delicious strawberry or chocolate sauce dressing! Complete this sweet pasta, sprinkling with white chocolate flakes or ground nuts. An awesome idea for a delicious dessert.
Stats:
Preparation time:

10 minutes
Cooking Directions: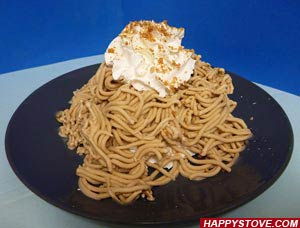 The secret for a perfect Spaghetti Eis is to work quickly with frozen tools to keep the gelato from melting. Follow the simple steps below to obtain a successful frozen masterpiece.
At least 20 minutes before serving the Spaghetti Gelato, place in the freezer the plates on which you will serve your dessert, a potato ricer and a gelato scoop.
When you are ready, retrieve dishes and tools from the freezer.
Start with spraying some whipped cream in the center of each dish to create volume for you gelato composition.
Now scoop the gelato in the cold potato ricer. Squeeze the handles to ooze out the gelato and create on top of the whipped cream long strings resembling a spaghetti dish. Cover the whipped cream completely.
Top with your favorite chocolate or strawberry topping sauce (Strawberries Topping Sauce ↪) and garnish with chocolate chips, ground nuts or fresh fruit in pieces.
Tips:
For this recipe you can use the gelato or the ice cream flavors of your choice. However, be careful not to choose ice cream with fruit, nuts or cookies in pieces since they cannot flow easily through the potato ricer small holes. For the same reason avoid ice creams that contain viscous ingredients like caramel or peanut butter that may be sticky.
Best results are obtain with artisan gelato and home made topping sauce like the Strawberries Topping Sauce ↪.
To resemble a pasta dish choose a pale yellow French vanilla ice cream, the strawberry topping and white chocolate flakes.
Spaghetti Gelato is tagged as: