If you like this recipe come back on www.happystove.com and rate it!
Oil free Parsley Potato Salad - Recipe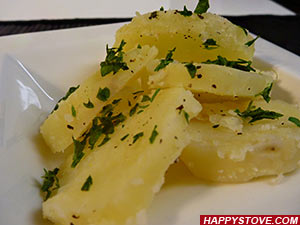 Oil free Parsley Potato Salad is a simple yet delicious recipe for either a side or an appetizer. This easy recipe is very good and rich of taste as it is and there is no need for extra added fat to find it surprisingly yummy.
Stats:
Preparation time:

10 minutes
Cooking Directions:
Boil the potatoes in their skin for about 30 minutes or until ready. To test them, pierce a potato with a toothpick or with a fork. If the potato offers little resistance it is cooked.
Drain and let cool the potatoes for a while until you can peel them comfortably.
Slice the boiled potatoes and dress them with vinegar, salt and black pepper.
Sprinkle with abundant chopped Italian Parsley and serve either warm or cold.
Tips:
Alternatively to boiling the potatoes you can steam them. Steaming has the advantage of keeping the potatoes from breaking apart. However, steaming whole medium potatoes can take up to 45-50 minutes.
If you like you can finely slice some onions to mix with the parsley potato salad.
This recipe is very good and rich of taste as it is and does not require the addition of extra fats. Anyway if you like you can add some oil when dressing.
Oil free Parsley Potato Salad is tagged as: