If you like this recipe come back on www.happystove.com and rate it!
White Chocolate Hazelnut Spread - Recipe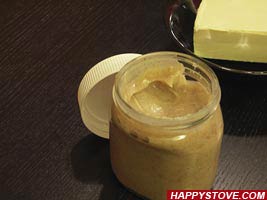 This is the recipe for a white homemade Nutella. A sweet white chocolate spread cream with a smooth touch of hazelnut flavor.
Stats:
Preparation time:

30 minutes
Cooking Directions:
Toast the hazelnuts in a large pan for 3 to 5 minutes stirring frequently. Peel the hazelnuts.
Mix the whole milk with the sugar until it is almost dissolved.
In an food processor grind the hazelnuts add then the white unsweetened chocolate in small pieces and blend until smooth.
Slowly add the whole milk mix and oil. Blend until homogeneous.
Cook in a large non stick pan the cream for about 5 minutes on low heat to melt the sugar and obtain a smooth cream. Stir continuously.
Pour the white chocolate and hazelnuts spread in a jar and let chill for about 1 hour.
Tips:
For best results use high quality ingredients. The White Chocolate should be unsweetened and with an high percentage of cocoa. We used a 28% cocoa fat white chocolate. The oil can be either corn oil or sunflower oil. To easily peel the hazelnuts you may boil them for 1 minute and then dry with a kitchen cloth and remove the peel.
This home made White Nutella like cream should be consumed within few days to preserve the original taste and freshness. Keep it in the refrigerator.
Great spread for your white bread or as a top for homemade cookies.
You may also be interested in the recipe for Dark Chocolate Hazelnut Spread ↪.
White Chocolate Hazelnut Spread is tagged as: