If you like this recipe come back on www.happystove.com and rate it!
Black Beans Sloppy Joe - Recipe
Black Beans Sloppy Joe is an easy to prepare recipe good both for an every day meal and a special occasion. Served with a side of steamed rice this recipe will surprise you and your family for its simplicity and his hearty and delicious flavors.
Stats:
Preparation time:

20 minutes
Cooking Directions: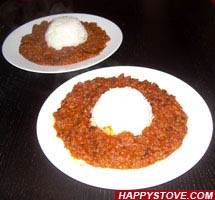 Mince the onion and cook in olive oil in a heavy large skillet on moderate heat for about 5 minutes, stirring occasionally, until lightly caramelized.
Add the ground beef and let the meat release its juices. Lower the heat and cook, uncovered, until no more water is left and the meat acquires a light brown color.
Add the crushed red hot pepper, if desired, and the drained black beans. Cook for about 5 minutes stirring often.
At this point add the tomato sauce. Adjust of salt and pepper and let gently simmer covered. After about 20 minutes, when the sauce is thickened remove from heat.
Tips:
Serve hot with a side of steamed rice.
You can substitute part or all the ground beef with ground pork, turkey or chicken according to your tastes.
If the Sloppy joe with black beans is too thick or dry you can add some of the black beans juice saved from the can.
Black Beans Sloppy Joe is tagged as: