If you like this recipe come back on www.happystove.com and rate it!
Russian Salad (Salade Olivier) - Recipe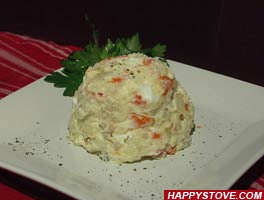 The most popular Russian recipe for potato salad. Russian Salad is perfect as an appetizer or side dish for meat based dinners.
Stats:
Preparation time:

20 minutes
Cooking Directions:
Wash and clean the potatoes and the carrots.
Boil separately the potatoes, the carrots, the green peas in salt water. Pay attention to don\'t overcook the vegetables they should remain crunchy. Drain, let cool and cut all the veggies in small pieces (about 1/3 inch wide).
Wash and boil the eggs for 8 minutes (Start counting from when the water boils). Let cool, peel and dice them. Cut also the pickled cucumbers and the onion in small pieces.
In a large bowl mix all the vegetables and the eggs. Adjust of salt and pepper and dress with the vinegar first and then with the mayonnaise.
Let rest in the refrigerator for at least one hour before serving. You can use some of the pickles and some sliced eggs to garnish your Russian salad.
Tips:
For better results use a good mayonnaise, better if homemade. The Russian salad should be firm. Just use the right amount mayonnaise to tight together the ingredients.
If you like you can add other vegetables. The secret is to cube them into pieces of the same size. Avoid vegetables that release color like the red beet and the ones that are too strong or watery.
Is suggested to use potatoes that hold their shape when boiled like Yellow Finn potatoes, red-skinned potatoes and white round potatoes.
Russian Salad (Salade Olivier) is tagged as: