If you like this recipe come back on www.happystove.com and rate it!
Ethiopian Vegetable Alicha - Recipe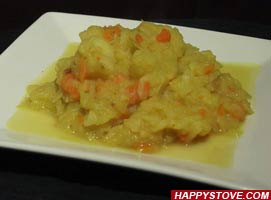 Vegetable Alicha is a traditional Lent Ethiopian recipe, but may be consumed thoroughly the entire year. Originally vegetarian and non spicy, this tasty and healthy dish may serve as base for many delicious variations with hot peppers or ground meat.
Stats:
Preparation time:

30 minutes
Cooking Directions:
In a stock pot, heat the extra virgin olive oil and saute the shredded onion.
When the onions are caramelized add the sliced carrots, the cubed potatoes and the striped bell peppers. Add the vegetable bouillon, the ginger and the turmeric. Adjust with salt and pepper.
Add 1 cup of water and cook for about 10 minutes adding more water to keep the vegetables moist while cooking, if needed.
After the 10 minutes add the sliced cabbage and stir well. Continue to add small quantities of water in the Alicha every time it dries up.
When the vegetables are tender and moistened in their tasty juice (about 30 minutes), remove from the heat and serve warm.
Tips:
If you don\'t mind some meat you may add some ground pork or ground beef to this recipe. Just cook thoroughly the meat with the caramelized onions before adding the remaining vegetables.
Ethiopian Vegetable Alicha is tagged as: