If you like this recipe come back on www.happystove.com and rate it!
Homemade BPB Soup - Recipe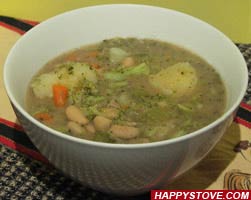 Homemade BPB - Broccoli, Potatoes and Beans - Soup is a delicious vegetarian recipe with chunked vegetables. Healthy and with a rich taste this soup is perfect either as main dish or starter.
Stats:
Preparation time:

15 minutes
Cooking Directions:
Wash and cut the broccoli, cube the potatoes and the carrots. Chop the onions.
In a large stock pot melt the unsalted butter and caramelize the chopped onions.
At this point, add the broccoli, the potatoes and the carrots. Stir fry for about 5 minutes.
Add enough water (about 3-4 cups) to cover the vegetables. Add the vegetable bouillon. In alternative, use vegetable broth.
Lower the heat, cover and let cook, stirring occasionally, until the water starts boiling.
Add the drained cannellini beans and cook for additional 20-30 minutes or until the vegetables are fully cooked. Stir occasionally and add water if required.
Before serving, adjust with salt and pepper.
Tips:
For a vegan version of this recipe, simply substitute the butter with vegetable oil or margarine.
For a heartier BPB soup, you can add beef or chicken meat to boil with your vegetables. Just saute them with the onions at the beginning.
You can top your soup with grated Parmigiano or Romano (Pecorino) cheese.
Add some good Extra Virgin Olive Oil on top just before serving for additional flavor.
Another great idea is to lay on the bottom of each soup bowl a slice of white bread before pouring on it the soup.
Homemade BPB Soup is tagged as: