If you like this recipe come back on www.happystove.com and rate it!
Italian Roasted Duck - Recipe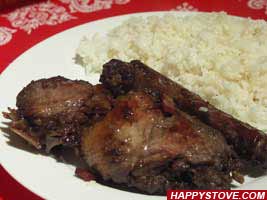 A delicious Italian Roasted Duck recipe. A tender and moist meat for a special occasion best served with yellow Polenta, white rice or mashed potatoes. Recipe submitted by Gianluca and Nicole.
Stats:
Preparation time:

40 minutes
Cooking Directions:
Wash and dry the duck, then clean it by removing any remaining feathers and quills with tweezers or needlenose pliers.
Cut the duck in pieces using kitchen shears. Locate the spine at the base of the neck. Cut up the line of the backbone towards the neck cavity. Turn the duck and cut straight towards the rear cavity. Remove the backbone.
Turn the duck over and cut straight down the middle of the breast bone, leaving 2 equal duck halves. To separate the legs from the breast, flip your halves over so the flesh side is facing up at you. Using a knife, make a crescent shape cut between the leg and the breast.
Cut further to obtain about 10 pieces.
In a large skillet add the cooking oil and the cubed pancetta (you can use cubed bacon instead). Cook for five minutes or until the pancetta turns brown.
Add the duck pieces and cook for 5 minutes.
Add the lemon juice, the vinegar, the beef bouillon, the cloves, the cinnamon. Adjust of salt and pepper. Lower the heat and cover. Let cook for 15 minutes.
Add the red wine and let cook for another 15 minutes of until ready.
Serve hot with a side of Italian polenta, white steamed rice or mashed potatoes.
Recipe submitted by Gianluca and Nicole
Italian Roasted Duck is tagged as: