If you like this recipe come back on www.happystove.com and rate it!
Penne Pasta with Radicchio and Cream Cheese Sauce - Recipe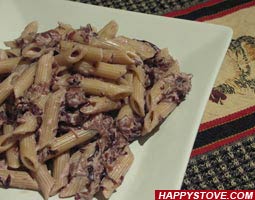 Penne Pasta with Radicchio and Cream Cheese Sauce is a great recipe for your everyday meal. The bitter taste of the Radicchio balanced by the creamy texture of cream cheese together with tasty cooked ham makes this meal unique and original.
Stats:
Preparation time:

20 minutes
Cooking Directions:
Wash and finely cut the radicchio. Chop the onion and cut in cubes the ham.
In a large skillet heat the olive oil, then saute the onion with the cubed ham.
Add the radicchio and stir well. Add 1 cup of water and cover. Cook for about 10 minutes stirring occasionally.
In the meantime, bring to boil the water and cook the pasta.
Add to the radicchio sauce the cream cheese to melt. Add some milk to reach the desired consistency. The sauce should result creamy and smooth.
Dress the Penne pasta with the radicchio and Cream Cheese sauce and serve hot.
Tips:
You can substitute the cubed ham with italian pancetta, bacon, speck or German prosciutto.
Penne Pasta with Radicchio and Cream Cheese Sauce is tagged as: