If you like this recipe come back on www.happystove.com and rate it!
Seven half cups cake - Recipe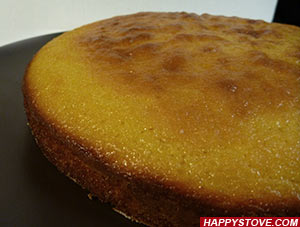 Seven half cups cake is an easy and yummy yogurt based cake recipe. Try it as it is or use it as base for many variations. The name comes from the proportion of the ingredients used for the preparation. Easy to bake, with its simple and delicious flavor this dessert will be a sure success.
Stats:
Preparation time:

15 minutes
Cooking Directions:
In a large bowl add the seven half cups of yogurt, flour, sugar, oil and the eggs.
Mix all together using an electric mixer until you obtain a smooth and creamy mixture. Add the yeast at the very end.
Grease with some butter a baking pan and pour the dough in it.
Bake for 25-30 minutes or until ready at 400F.
Tips:
For a softer cake you can substitute half cup of flour with potato starch usually available in Korean stores or use a soft flour mix for cakes.
You can use plain yogurt or a flavored one as a nice variation.
You can ice the cake with your favorite topping. You can also cut it in half lengthwise and fill it with custard (see recipe for Pastry Cream Custard ↪, Coffee Pastry Cream Custard ↪, Chocolate Pastry Cream Custard ↪), a vanilla or chocolate pudding.
You can use the yogurt cup as measure (approximately 1/2 a cup) for all the ingredients.
Seven half cups cake is tagged as: