If you like this recipe come back on www.happystove.com and rate it!
Meatballs and Red Peppers Spaghetti - Recipe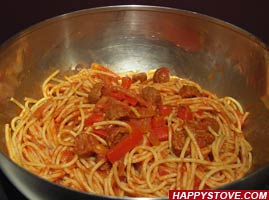 Meatballs and Red Peppers Spaghetti is a yummy and colored pasta, perfect for your everyday meal. Quick and easy to prepare.
Stats:
Preparation time:

25 minutes
Ingredients:
To browse other recipes using that ingredient click on the
Cooking Directions:
Prepare the meatballs as explained in Swedish Meatballs (Kottbullar) ↪ or, if using frozen ones, thaw and then cut them in small pieces.
In a large pot, bring to boil enough water to cook the spaghetti. When boiling, add salt and the pasta. Cook until \"al dente\", stirring occasionally.
Cut the onion in very thin slices and caramelize them in a large non sticking pan with the olive oil.
Cut in small pieces the red bell pepper and add it to the onions. Stir fry for about 2 minutes.
Add the Homemade Traditional Tomato Sauce ↪ and the meatballs in small pieces. Gently simmer, covered, until sauce is thickened, about 10 minutes, then remove from heat.
When the pasta is ready, drain it and dress with the meatball sauce. If desired top with Parmigiano cheese and serve.
Tips:
If you are short in time, you can use canned traditional tomato sauce instead of making your own.
Meatballs and Red Peppers Spaghetti is tagged as: