If you like this recipe come back on www.happystove.com and rate it!
Butter Fried Baby Carrots - Recipe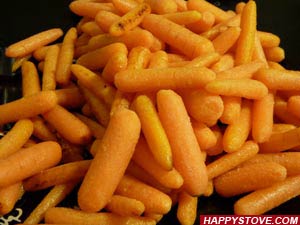 Looking for an easy, time saving recipe for carrots? With their lightly buttery flavor and their soft texture these Butter Fried Baby Carrots will make your taste buds happy. Perfect as side for white and light meat.
Stats:
Preparation time:

10 minutes
Cooking Directions:
In a non stick large skillet, on low to medium heat, melt enough butter to generously cover the whole surface of the pan.
When the butter is melted, add immediately the carrots in the pan and let cook, uncovered, stirring frequently until the carrots are soft and slightly brown.
Adjust with some salt and pepper and serve hot as appetizer or as side dish for white and light meat or fish.
Tips:
You can add some cumin or other spices to the butter fried carrots according to your preferences.
Don't melt the butter on high flame to avoid it burning and give an unpleasant flavor to your baby carrots
If you have only medium-large carrots, just slice them in disks before cooking. They will come out just perfect and crispy.
Butter Fried Baby Carrots is tagged as: