If you like this recipe come back on www.happystove.com and rate it!
How to make Potato Gnocchi - Recipe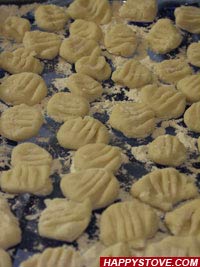 Gnocchi are a delicious traditional Italian dish, a great alternative to pasta. Here an easy step by step guide for the preparation of these homemade potatoes delicacies.
Stats:
Preparation time:

45 minutes
Cooking Directions:
Boil the potatoes for about 30 minutes or until ready.
Peel the potatoes when still hot and mash them with the help of a potato masher.
Let cool the mashed potatoes then add the egg, the salt and the flour. Knead until you obtain an homogeneous dough.
Cut a piece of the dough and roll it on a floured surface to obtain a string thick as a finger.
Cut the string in small pieces, about half an inch of length.
Next step is to give the gnocchi a c shape. Lightly press the gnocchi on a fork, to impress the fork tines on the dough.
Tips:
The amount of flour required for the gnocchi may greatly vary depending of the variety of potatoes used.
The more one kneads the potatoes the more flour they require. Try not to use too much flour or it will hide the taste of the potatoes. For better results knead by hand.
Cook about 20 of the gnocchi per time or they will stick together. Sim the gnocchi in abundant salted boiling water and remove them with a skimmer ladle when they rise to the surface. Drain well before dressing.
How to make Potato Gnocchi is tagged as: