If you like this recipe come back on www.happystove.com and rate it!
Ham, Bell Peppers and Onions Saute - Recipe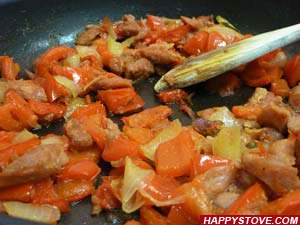 Ham, Bell Peppers and Onions Saute recipe is an easy and quick idea for a tasty entree. Perfect with a side of steamed rice or oven baked potatoes.
Stats:
Preparation time:

20 minutes
Cooking Directions:
Wash and clean the bell peppers and cut them into big pieces (1/2 inch). Cut the onion in 1/2 inch pieces.
Preheat a large skillet over high heat. Add the extra virgin olive oil. Saute the bell peppers and the onions for about 5 minutes, stirring continuously.
Add the cubed cooked ham. Stir very well.
Lower the flame to low-medium heat and add 1/2 cup of white wine. Cover and let cook for about 15-20 minutes or until the bell peppers are wilt, stirring occasionally.
Remove the cover and let evaporate the remaining juices. Adjust with salt and pepper before serving.
Tips:
You can spice up this recipe by adding some crushed hot peppers or fresh jalapeños to cook with the bell peppers.
To add some color you may use different varieties of bell peppers (red, yellow, orange and green).
Ham, Bell Peppers and Onions Saute is perfect with a side of steamed rice or Oven Baked Potatoes ↪
Ham, Bell Peppers and Onions Saute is tagged as: