If you like this recipe come back on www.happystove.com and rate it!
Leek Soup - Recipe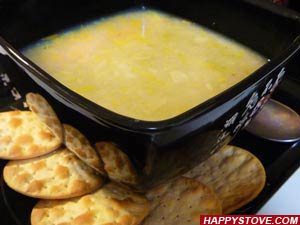 Healthy, easy and tasteful, this Leek Soup is a great recipe with a delicate flavor. Enjoy this vegetarian meal with toasted bread, crackers or croutons.
Stats:
Preparation time:

20 minutes
Cooking Directions:
Finely slice the onion and the white part of the leeks into thin rounds
In a large pot saute the onions and the leeks in the olive oil for 1-2 minutes.
Add then the sifted flour and saute for additional 1-2 minutes until onions and leeks are slightly brown.
Add about 1-1/2 quarts of water and the vegetable bouillon in the pot.
Adjust with salt and pepper to taste and let cook on medium heat for about 30-40 minutes.
In the meantime, toast the sliced white bread.
Before serving, add some olive oil and some pepper on top. Serve with the previously toasted bread.
Tips:
You can substitute the olive oil with unsalted butter to saute the onions and the leeks.
As a serving suggestion, you can spread some grated Parmigiano Reggiano on top, before serving the soup.
You can add some rice to the soup. Just add the rice (about one cup for 4 servings) when the water is added to the sauteed onions and leeks.