If you like this recipe come back on www.happystove.com and rate it!
Italian Crostoli (Chiacchiere) - Recipe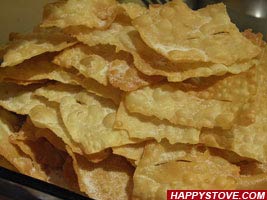 Italian Crostoli (Chiacchiere or Galani) are a typical Italian dessert, traditionally prepared during the Carnival time. Easy to make, Crostoli will surprise you for the simple but superb flavor.
Stats:
Preparation time:

30 minutes
Cooking Directions:
Combine flour, sugar, salt and melted butter in a large bowl.
Add, one by one, the eggs, mixing well to obtain an homogeneous dough.
Let stand the Crostoli dough for about one hour covered with kitchen cloth.
Divide and shape the dough to form spheres as big as half egg.
Flatten each dough ball with the palm of your hand or with a rolling pin to form a very thin rectangle.
Heat the oil in a large skillet. Lay each dough rectangle in the hot oil and fry until golden, flipping them twice.
Lay the cooked Italian Crostoli on absorbent paper towels to get rid of the oil in excess. Spread with abundant granulated or confectioners sugar. Serve at room temperature.
Tips:
If you want you can add a shot of Italian grappa (grapes liquor) to the dough to enhance the Crostoli flavor
Italian Crostoli (Chiacchiere) is tagged as: