If you like this recipe come back on www.happystove.com and rate it!
Black Mussels in Tomato Sauce - Recipe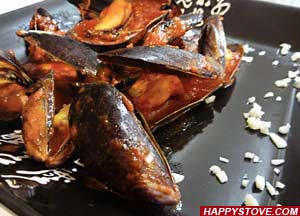 Mussels in Tomato Sauce are a great idea for either a main course or served as appetizer. Quick and easy, this recipe is a perfect treat to bring the flavor of the best seafood restaurants on your table.
Stats:
Preparation time:

10 minutes
Cooking Directions:
If you are using fresh black mussels, wash them very well and scrub the surface. Only use tightly closed raw mussels since open ones may not be edible because not alive.
In a large pot, big enough to accommodate the mussels, heat the oil and quickly saute the garlic.
Add the mussels and cook briefly. Sprinkle with the crushed red peppers if desired.
When mussels are ready, add the tomato sauce (for an homemade version, see recipe for Homemade Traditional Tomato Sauce ↪) and stir gently with a wooden spoon.
Serve hot with some sliced and toasted bread. Garnish with a slice of lemon if desired.
Tips:
Most cookbooks still recommend to discard all the mussels that remain closed after cooking even if recent studies show that this belief are erroneous, so simply open the closed mussels with a knife.
You can also use frozen mussels either raw or precooked, in that case thaw them under cold water just before adding them to the pan.
Black Mussels in Tomato Sauce is tagged as: