If you like this recipe come back on www.happystove.com and rate it!
Drunk Stew with Beef and Beer - Recipe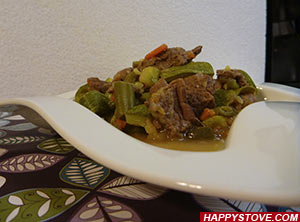 Drunk Stew with Beef and Beer is a yummy recipe for an original dish. The beef, cooked in light beer with a wholesome mix of vegetables, will turn surprisingly tender and delicious. A must try for beer and beef lovers. Recipe submitted by Laura F.
Stats:
Preparation time:

10 minutes
Cooking Directions:
Wash, clean and cut in small pieces celery, carrots and the onion.
Saute the chopped celery, carrots and onion in a big stock pot with the extra virgin olive oil until they start to wilt.
At this point add the cubed beef and quickly cook until seared on the outside. Stir continuously.
Add one bottle of light beer or lager in the pot with the beef and the stir fry of of vegetables. Adjust with salt and pepper.
Cover with a lid, bring the flame to low and let cook for about 30 minutes stirring from time to time.
After the time has passed add the green beans in pieces and the zucchini in thick strips. Adjust with some water if too dry.
Stir and let cook for additional 20 minutes, uncovered or until the vegetable are soft and ready.
Serve hot with a side of Polenta (How to make Polenta ↪).
Recipe submitted by Laura F.
Tips:
If you keep it more liquid, you can take part of the juice and enjoy a cup of delicious broth to serve as appetizer. Let thicken the remaining liquid in the pot and enjoy the juicy beef with the vegetables.
If you like a thicker stew you can add some peeled and cubed potatoes together with the summer squash and the green beans.
Try this same recipe with your favorite kind of beer. You can use light or lager beer as suggested or other kinds such as Pilsner, Weissbier, or Dark beer.
Drunk Stew with Beef and Beer is tagged as: