If you like this recipe come back on www.happystove.com and rate it!
Grilled Onions with Cream Cheese and Parsley Spread - Recipe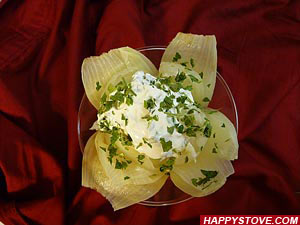 Grilled Onions with Cream Cheese and Parsley Spread are an exquisite idea for an easy and quick foil-grilled appetizer. Perfect to surprise your dinner guests or to celebrate your holidays on the grill!
Stats:
Preparation time:

10 minutes
Cooking Directions: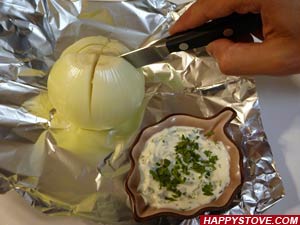 This recipe has been designed to prepare the onions on a grill. However, you can easily get the same results using your home oven.
Peel the onions and make two deep incision crosswise with a knife as shown in the picture. However, be careful not to cut them completely through.
Lay each onion on a double layer of foil and dress with some oil, salt and pepper.
Close the foil around each onion and cook on the hot grill for about 20 minutes.
In the meantime, chop finely the Italian Parsley and mix with the cream cheese. Adjust with salt and keep mixing until you obtain a smooth cream. Add some milk if necessary.
When the onions are fully cooked, remove from heat, open the foil and transfer each onion in a small serving bowl.
Open the onion layers to resemble a flower. Lay in the center some cream of cheese and parsley.
Serve and enjoy.
Tips:
If you plan on grilling the onions outside, just cut them and prepare the cream cheese spread ahead of time and bring them with you.
Use room temperature cream cheese or heat it in the micro-wave for few seconds to make it softer.
Instead of cream cheese try ricotta cheese (How to Make Homemade Ricotta Cheese ↪) and mixed herbs (rosemary, sage and thyme).
Grilled Onions with Cream Cheese and Parsley Spread is tagged as: