If you like this recipe come back on www.happystove.com and rate it!
Peanut Butter Dressing Sauce - Recipe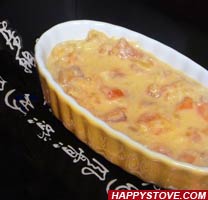 Peanut Butter Dressing Sauce is a quick, easy and yummy recipe for an original dressing sauce for your salads, pastas, seafood and meat dishes.
Stats:
Preparation time:

20 minutes
Cooking Directions:
In a large pan, sauté in sunflower oil the chopped onion and the minced garlic cloves.
Add the cumin powder and, to follow, the roasted peanuts. Cook for one additional minute.
Add the chopped tomatoes. Cook at medium heat for one minute, stirring frequently.
Pour the 1/2 cup of milk and simmer for 1-2 minutes. Adjust with salt.
At low heat, add the 2 tablespoons of peanut butter, let melt and stir.
Serve the Peanut Butter Dressing Sauce to accompany your salad, your grilled meat (Grilled Chicken Breast ↪), Oven Baked 7 Bone Steak ↪ or your seared tuna (How to cook Seared Tuna Steaks ↪).
Peanut Butter Dressing Sauce is tagged as: