If you like this recipe come back on www.happystove.com and rate it!
Mashed Carrots And Potatoes - Recipe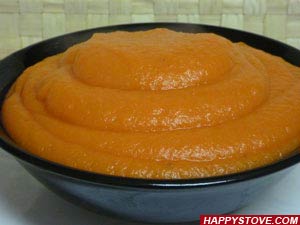 A classic recipe with Mashed Carrots and Potatoes. Let be conquered by its silky texture, its bright color and its smooth and delicious flavor. An healthy choice for both adults and little ones.
Stats:
Preparation time:

40 minutes
Cooking Directions:
Wash, peel and dice carrots and potatoes in large pieces. Boil in abundant water for about 20 minutes. Alternatively you can steam the vegetables. When ready, drain well and mash to obtain a homogeneous cream.
Combine the mashed vegetables with the vegetable bouillon in a large enough non stick pot and start heating at low heat. Add then slowly the milk, some grated nutmeg. Adjust of salt and add a hint of grated lemon zest.
Continue to heat stirring frequently until reaching the desired consistency.
Remove from heat and serve hot as side for meat or seafood dishes.
Tips:
Instead of mashing the potatoes by hand you can use a blender. Blend together the boiled vegetables and the milk. The result will be a very creamy and smooth mashed potatoes and carrots. If you like better a chunky puree, you can mash potatoes and carrots using a hand masher.
You can also boil carrots and potatoes in the microwave. Wash and peel the vegetables. Cut in large pieces and place in a microwave safe dish. Add half a cup of water and cover with some plastic wrap. Make some small holes in the wrap with a toothpick and cook at high for 15 minutes.
Mashed Carrots And Potatoes is tagged as: